Scrolling through Pinterest, I have located some new special finds that I am lovin this week featuring Vintage Victorian clothing and accessories theme ……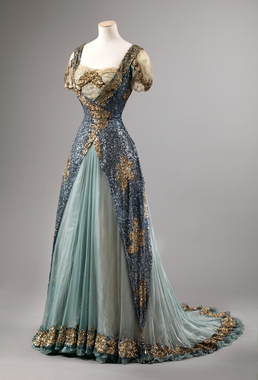 This is referred to as a Pouter Pigeon waist.
(http://digitaltmuseum.no/011064188210/?query=Drakt&owner_filter=NMK-D&page=3&pos=54&count=764)
Brilliant Burgundy Vintage Victorian Purse.  Many Victorian purses were adorned with beads, gem stones, and sequin
(http://www.ladyannerose.com/category_30/Victorian-Purses.htm)
Loving the rich purple.
(rubylane.com)
Beautiful hand beaded evening gown from the 1900's. The styles were very ornate and flowing.
(https://threadingthroughtime.wordpress.com)
Simply Breath Taking
1888 two piece reception gown in Pearl Grey taffeta and silk velvet purple.  Rich colors such as purple gave elegance to any dress.
(http://www.abitiantichi.it/collezione/abiti/abito164.html)
Can you just imagine the event you would go to with they great boots.  Again with the richness of the purple and the ornate beading gives the added appeal of elegance.
(https://threadingthroughtime.wordpress.com/2014/09/06/your-weekend-wow-29/)
Edwardian S-Shaped Corset
The ladies that wore that Vintage Victorian "waste cincher" to make their waste smaller.  The idea was the smaller the better no matter how uncomfortable.
(https://fashionthroughhistory.wordpress.com/2014/02/27/edwardian-s-shaped-corset-inspiration/)
I'm thinking sitting will be little difficult with this.  Bustles were played a very important role in the Vintage Victorian dress for ladies.  This bustle gave an added adornment in the back of the dress and possibly made the waist appear smaller.
(http://invictoriantimes.blogspot.com/2012/12/panniers-bustles-crinolines-de-ook-wel.html)
Vintage Victorian Pearl Pendant. Jewels were a beautiful addition to any Victorian's appearance or wardrobe and were a symbol of wealth.
(http://www.john-joseph.co.uk/pendants.html)
Antique Victorian Shell Cameo
(https://www.pinterest.com/source/antiquecameos.net)
I hope you have enjoyed this little tour of some great vintage, antique, and Victorian styles.  All of these and more are on my Pinterest page.
***All of the photos were taken from Pinterest***
What are your special Pinterest finds?