Welcome back to Kitchen Tip Tuesday, I will share some tips, tricks and how to's from some vintage cook and recipe books that I stumbled across in my travels.  Now some of these tips and tricks may seem…..well let's say a little different.  However, I am sure we all can relate to some of them.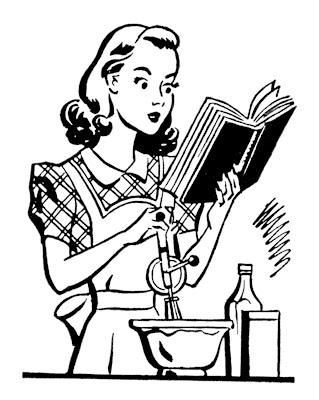 Weights and Measures
1 lemon = 1 tbsp. grated
1 medium lemon = 2 to 3 tbsps
15 graham crackers = 1 cup
1 lb of Shortening or Butter = 2 cups
Everyday Herb Guide
Sage
Found in Yugoslavia, Italy, Greece, and Spain
Tastes good with stuffing's, pork roasts, sausages, poultry and hamburgers (I have never thought of sage and hamburgers)
It Is: a shrub of the mint family, with pleasant aromatic odor and a slight bitter taste
Thyme
Found in France and Spain
Tastes good with soups, clam chowder's, stuffing's, beef, lamb, veal, pork dishes, oysters, eggs, cheese, bean and vegetable soup, and fish
It is: a member of the mint family, with short brown leaves, has a warm aromatic odor and pungent flavor
Dill
Found in India and United States
Tastes good with fish, cream and cottage cheese, potatoes, fish and vegetables salads, pickles, and tomatoes
It is: a fruit of the parsley family, has aromatic odor with delicate caraway flavor
Just overall interesting tips
When cooking eggs it helps prevent cracking if you wet the shells in cold water before placing them in boiling water.
To prevent crust from becoming soggy with cream pie, sprinkle crust with powdered sugar.
If the juice from an apple pie runs over in the over, shake some salt on it, which causes the juice to burn to a crisp so it can be removed easily.
You can get more just from a dried up lemon if you heat it for five minutes in boiling water before you squeeze it.
I hope you have enjoyed Kitchen Tip Tuesday.  I will be back next Tuesday for more vintage tips, tricks, and how to's.  In the mean time…What are your best tips and tricks?
***All of the information gathered for this post was located in recipe books from the "Notable Recipes", City of Palms, Sweet Adeline Chorus