Need a little organization for the new year? Do you love the farmhouse look and want to incorporate it to help you organize? I have just the storage baskets, bins, and containers to help you get you started. I was thinking the other day just how popular farmhouse style has become. Many years ago this style would have looked down upon and only for the country poor. My how things have changed and I for one couldn't be more pleased. The opportunity for incorporating farmhouse in your home is limitless.
You can be the person that loves the authentic vintage/antique treasures and let them shine throughout your home. However, you could be the person that enjoys the more modern version of the farmhouse (new, made to look old). You just may even be a mixture of both styles that create your unique look. No matter which style appeals to you I have found some wonderful storage items that will definitely fit them all.
This post contains affiliate links.
Organization Farmhouse Style with Baskets
A wonderful basket from Target to help keep things organized like throws, pillows, or magazines.
Walmart, yes Walmart has some great baskets to add those farmhouse style touches to your home. This little basket has huge potential with organization in the kitchen, foyer, or office area.
Are you an organizer that likes to have multiples of things in different sizes? Hobby Lobby has lined wire baskets that make your organization complete. Store towels, toys, laundry items, throws and much more.
You love farmhouse style baskets, but you are looking for the real thing. Hop on over to Etsy and find baskets like this vintage bushel crop basket that is sure to conquer some organization issues.
Wire scoop front basket will make storing very easy. Reach on in to grab fruit, veggies, pantry items, wash clothes, or slippers. This little gem works well in any room of the house and Wayfair has got it for you.
Farmhouse Style Bins
Galvanized storage bins are great for organization. World Market offers they vintage style farmhouse bins that will work in the den, bedroom, laundry room or sitting area.
Are you needing to raise the bar on storage bins and create a wall organizer? Walmart comes to the rescue again with this chicken wire wall organizer. Us this great unit in the kitchen, office, laundry or mud room.
Hayneedle has a super farmhouse caddy with bins that will be great for cookouts, parties, kitchen, and bathroom.
Milk Market on Etsy has some great vintage stackable bins that will get your kitchen, bathroom, laundry room or closet in fast order.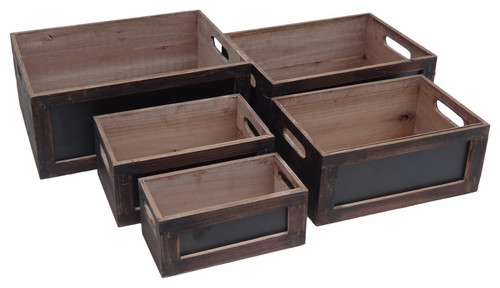 Grab a deal from
Houzz
with these 5 chalkboard bins. These bins have many functions and can sit on their bottoms or turned up on their side based on your need. These would be great near the fireplace for throws or wood, children's room for toys, mudroom for shoes, or laundry room for supplies.
Farmhouse Style Containers
Stackable aged galvanized storage containers from Target is a winner. These 3 containers will have your office or kitchen organized and tidy in no time.
Overstock has a storage container that will take care of everything. This storage bench will look fantastic in the bedroom, den, or laundry room.
White enamel storage containers with lids from Farmhouse Wares are great for organizing the kitchen or office.
Organizing your fridge will be a snap with this vintage enamel refrigerator container from Cool Vintage For Home on Etsy.
Amazon offers 3 galvanized antique style storage containers. These three beauties will be helpful in the kitchen, office, or laundry area.
This is just a small taste of the many farmhouse style baskets, bins, and containers to help with your home organization. Mix and match these to create your own unique style in your home.
Do you have a favorite organization helper that fit the popular farmhouse style? If so, please feel free to take a photo and share with us.
If you like this post, please share.
You may also like…
Best Farmhouse Kitchen and Dining Room Lighting
Farmhouse Picks From Kirkland's